Chitose-Niseko Line (by reservation)
Operation Period
August 1 (Tue) - October 15 (Sun), 2017
Duration
New Chitose Airport - Hirafu Welcome Center/3 hrs and 9 min
New Chitose Airport - Hilton Niseko Village/2 hrs and 50 min
New Chitose Airport - Niseko Annupuri/2 hrs and 32 min
New Chitose Airport - Ikoi no Yu Iroha/2 hrs and 35 min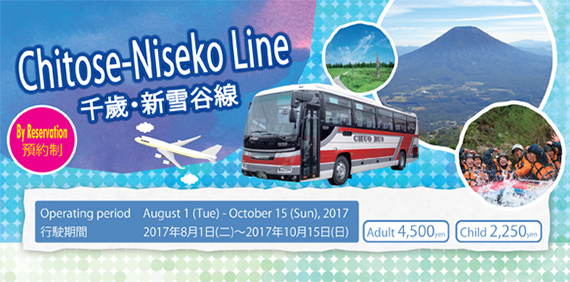 Our Price
New Chitose Airport - Niseko

(Hirafu Welcome Center - Niseko Annupuri Ski Area)

One-way
Adult
2,600yen
Child
1,300yen
Round-trip
Adult
4,500yen
Child
2,250yen
New Chitose Airport - Niseko View Plaza, Hondori

*There is not set round-trip fare.

One-way
Adult
2,500yen
Child
1,250yen
New Chitose Airport - Rusutsu

*There is not set round-trip fare.

One-way
Adult
2,050yen
Child
1,030yen


Hirafu Welcome Center Departures
| | | |
| --- | --- | --- |
| Hirafu Welcome Center | 9:10 | 15:00 |
| The Green Leaf Niseko Village | 9:24 | 15:14 |
| Hilton Niseko Village | 9:28 | 15:18 |
| Niseko Higashiyama Pension Village | 9:31 | 15:21 |
| Ikoi no Yuyado Iroha | 9:41 | 15:31 |
| Niseko Northern Resort Annupuri | 9:42 | 15:32 |
| Niseko Annupuri Ski Area | 9:44 | 15:34 |
| Potato Kyowakoku | 9:45 | 15:35 |
| Annupuri Ski Area entrance | 9:47 | 15:37 |
| Hondori | 9:54 | 15:44 |
| Niseko View Plaza | 9:58 | 15:48 |
| Rusutsu Resort Hotel (In front of entrance) | 10:25 | 16:15 |
| JR Chitose Station | 12:09 | 17:59 |
| New Chitose Airport ( Alighting Lane ) | 12:15 | 18:08 |
| International Terminal (No.66) | 12:18 | 18:09 |
New Chitose Airport
| | | |
| --- | --- | --- |
| New Chitose Airport (No.12) | 10:40 | 15:00 |
| International Terminal (No.66) | 10:41 | 15:01 |
| JR Chitose Station | 10:50 | 15:10 |
| Rusutsu Resort Hotel (In front of entrance) | 12:34 | 16:54 |
| Niseko View Plaza | 13:01 | 17:21 |
| Hondori | 13:05 | 17:25 |
| Annupuri Ski Area entrance | 13:12 | 17:32 |
| Potato Kyowakoku | 13:14 | 17:34 |
| Ikoi no Yuyado Iroha | 13:15 | 17:35 |
| Niseko Northern Resort Annupuri | 13:16 | 17:36 |
| Niseko Annupuri Ski Area | 13:18 | 17:38 |
| The Green Leaf Niseko Village | 13:30 | 17:50 |
| Hilton Niseko Village | 13:34 | 17:54 |
| Niseko Higashiyama Pension Village | 13:37 | 17:57 |
| Hirafu Welcome Center | 13:49 | 18:09 |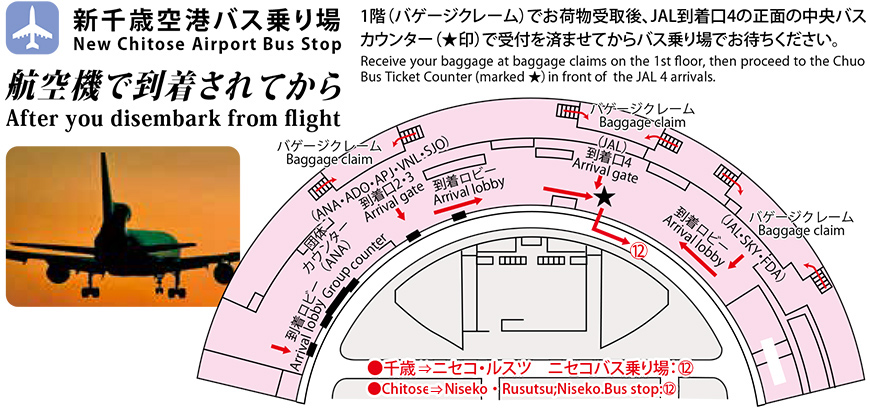 Destination
Stops
Number
Hirafu Welcome Center
Ikoi no Yuyado Iroha
New Chitose Airport (No.12)
International Flight Terminal (No.66)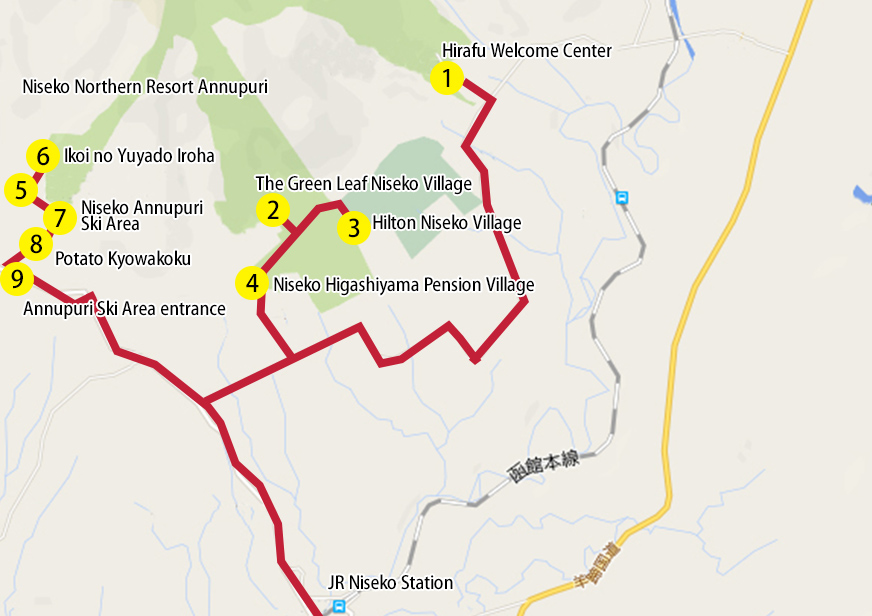 Destination
Stops
Number
New Chitose Airport
Hirafu Welcome Center
The Green Leaf Niseko Village
Hilton Niseko Village
Niseko Higashiyama Pension Village
Ikoi no Yuyado Iroha
Niseko Northern Resort Annupuri
Niseko Annupuri Ski Area
Potato Kyowakoku
Annupuri Ski Area entrance
Schedule Calendar
2017/8

| SUN | MON | TUE | WED | THU | FRI | SAT |
| --- | --- | --- | --- | --- | --- | --- |
| | | 1 | 2 | 3 | 4 | 5 |
| 6 | 7 | 8 | 9 | 10 | 11 | 12 |
| 13 | 14 | 15 | 16 | 17 | 18 | 19 |
| 20 | 21 | 22 | 23 | 24 | 25 | 26 |
| 27 | 28 | 29 | 30 | 31 | | |
| | | | | | | |
※Days shown in color are operating days.
Special Notes
*Operating on the Niseko Bus Co., Sapporo Daiichi Sightseeing Bus.
*Please note that arrival may be delayed due to traffic congestion or adverse weather conditions. Please allow ample time for transfers to other modes of transportation.
*Please note that operation may be suspended due to disasters or other unforeseeable conditions. Please confirm operation conditions in advance.