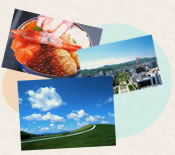 The Hokkaido Chuo Bus [Regular Sightseeing Buses] run by reservation only to various famous sightseeing spots, allowing visitors to enjoy the nature and food of Hokkaido. There are many morning, afternoon, night or one-day courses to choose from!

There are more than 25 courses, which allows visitors to chooses a time fit for each schedule. Why not utilize your free time in Sapporo with sightseeing!
Trained bus guides provide plentiful information about each scenic spot and trivia to help make your travels interesting and comfortable. * Buses are operated with one driver and one tourist guide.
If there is even one person who signs up for the tour, the tour will be in operation. Even solo travelers to Sapporo can enjoy a day of sightseeing.
All seats are reserved so you can relax in your seat from the beginning to end of the tour.

Multilingual
guided system
The multilingual guidance system equipped bus tours have recorded guides in English, Chinese, and Korean. Japanese is provided by a personal guide. (※ Recorded Japanese guides may be provided for parts of some tours.
Reservations
●It is now possible to book your reservation on each course of the Chuo Bus Regular Sightseeing Buses from as early as 3 months in advance. (You can book reservations for courses up to the last day that marks 3 months prior to the bus you wish to board.)
Book your reservation online, at travel agencies or by phone.
*Reservations cannot be made for [Sapporo Walk], [Otaru Tour Bus], and [Otaru Nightview Shuttle].
Look at operation period, departure/arrival times, prices and sights on each course to determine which course you would like to take.
On each course information page you will find the link for Hassha Orai vacancy page, and reservation page, and phone number for reservation center.
After you have made your reservation, be sure to purchase your bus ticket and be at the bus stop 20 minutes before departure, then board your bus and enjoy your travels in Hokkaido!
"The following credit cards are accepted on regular tour buses: VISA, MasterCard, JCB, Diners, Discover, American Express, UnionPay (Silver Card) ※ UnionPay Silver Card, VISA, and MasterCard are accepted only at Sapporo Station Bus Terminal and Otaru Station Bus Terminal."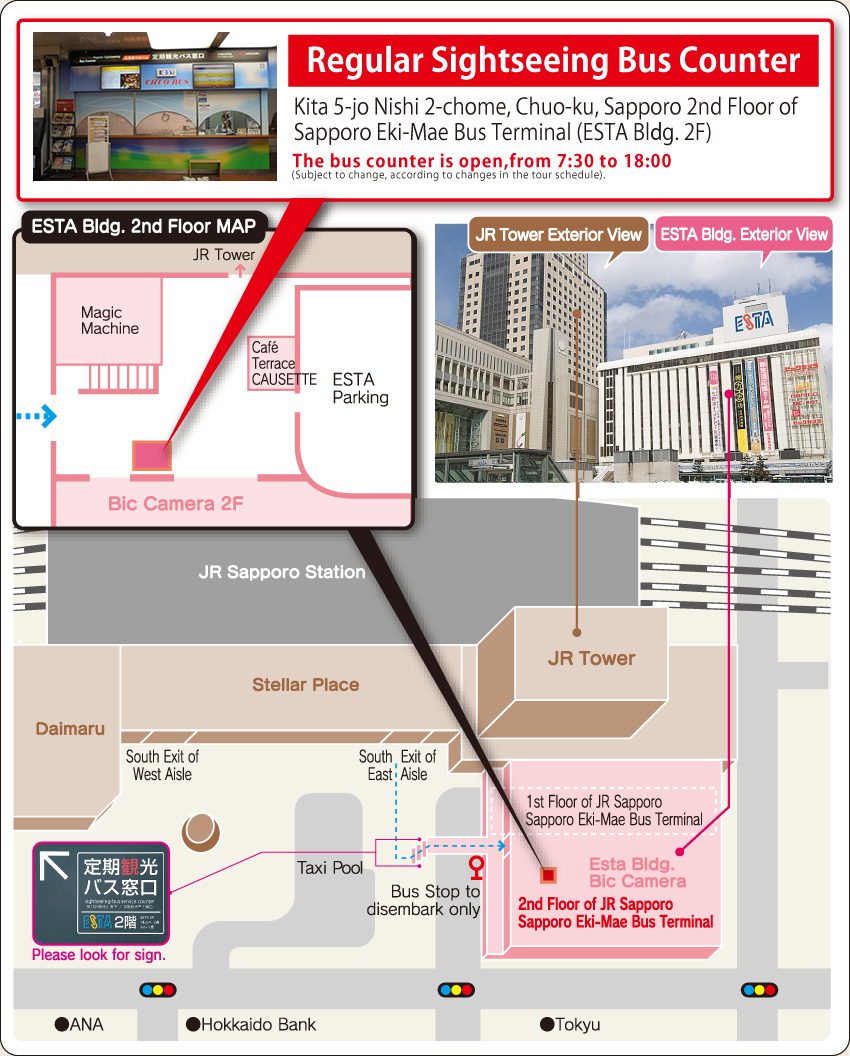 Fares and Charges
Fares and charges include taxes
Unless otherwise noted, child fare applies to whom are between ages of 6-11 on the date the ticket is issued.
Under the age of 5, when a seat is not required, there is no charge for one child per one adult.
How to Enjoy Your Bus Tour
1. Please apply early.
2. Due to traffic or weather conditions, buses may run late, so leave plenty of time after the tour to make your connections.
3. All tour buses are non-smoking only. You may smoke at sightseeing stops or rest stops in the designated smoking areas. Also, please turn cell phones to silent mode or off on buses.
4. Fare refunds up to 2 hours before the start of the tour incur a ¥100 fee. No refunds will be made after that time.
5. Reservation-based tours will be cancelled if there are no reservations by 6:00 p.m. the preceding day.(except some courses)
6. The course of the tour may change without notice. Please confirm when applying.
7. In order to prevent global warming and air pollution, please note that bus engines are turned off at sightseeing stops, so air conditioning and heating will also be turned off.
8. There will be no increase in the number of buses on some courses.
9. Natural disasters (such as the expressway being closed due to adverse weather conditions) may cause delay or cancellation of tours. Please check the status of your tour each time.
10.Information given when reserving a tour may be used to: make reservations, issue tickets, and contact the customer. Information may also be used for statistical purposes.
11.Tour guides and bus drivers speak Japanese only.
12.Please set your watches to Japan time.
13.Please be sure to mind the tour time and departure time at each destination. If you do not return to the bus in time for departure, the bus will not wait.
14.Please understand that the sightseeing guide may have to use a cellphone for emergency purposes, when at the lunch venue, while sightseeing or on the bus.
15.Our tour guides on the regular sightseeing buses can assist you only in Japanese. For any questions you may have during the course of the tour, please use our telephone translation service.
16.Please be sure to take your bus ticket stub when you get off the bus at each destination. The bus ticket stub has the emergency contact information on the back.
17.Please keep your voice quiet during the trip.
18.Please fasten your seat belt.
19.Arrival can be late for a traffic jam.
20.Please stay seated when the bus in in motion.